Annie Maison Home Office Style Guide 2020/21
During what has been one crazy year for the whole world, where everybody has had to learn to adapt in some way or another, where home working is now a "thing" adopted by the masses and where it's ok to wear your pyjama bottoms with a shirt and tie during an important client zoom call, while the Carol Baskin fights with the "Tiger King" for the big cat top spot.
If working from home is now your gig, we hope this post inspires your to create a space that inspires you everyday, provides the motivation and creativity during a time when you need it most.
For the millions of people who have been affected by the events of 2020 both personally and in business we send our love and say "COME ON, YOU'VE GOT THIS!"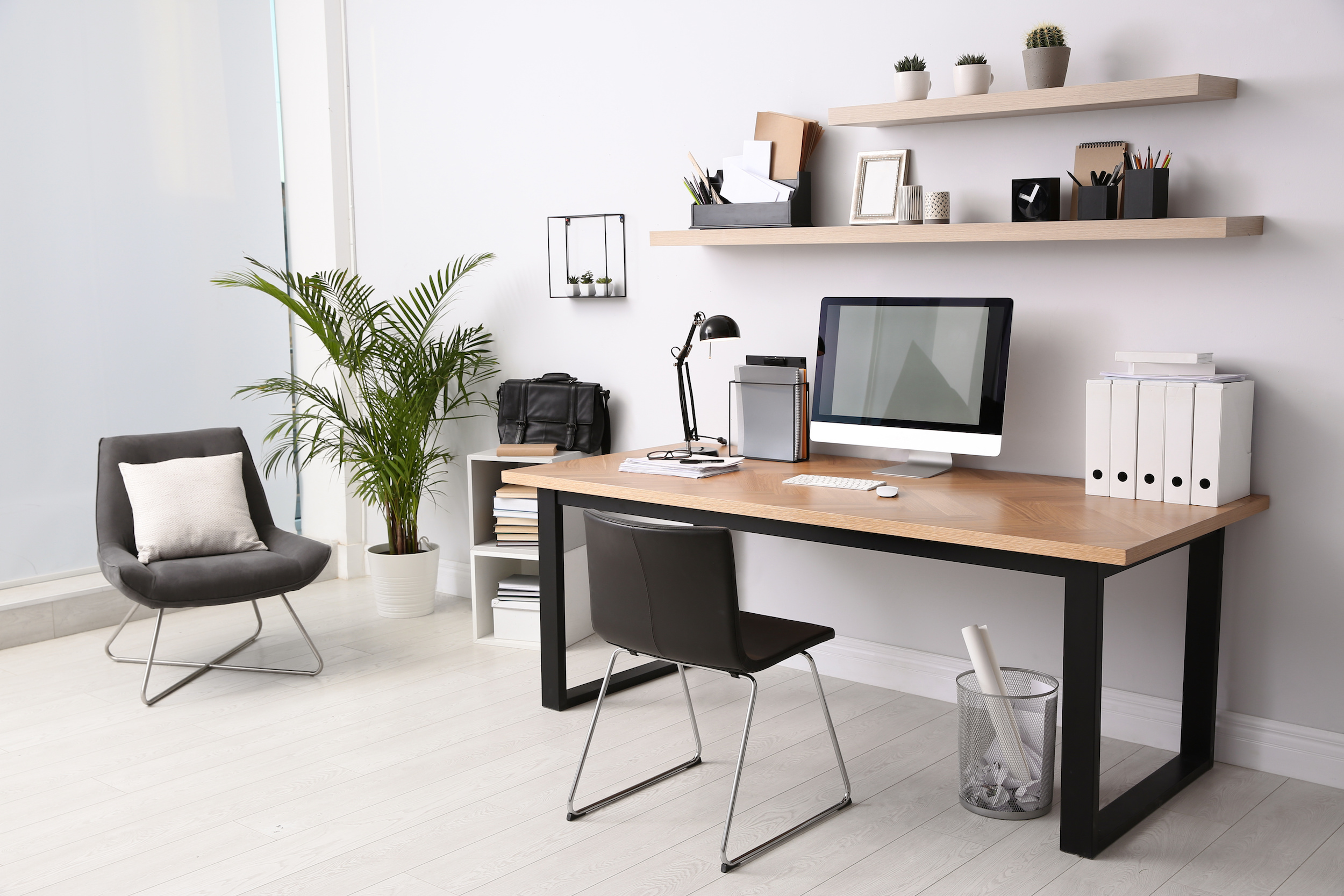 Box Fresh & Clean Lines
Simplicity mixes with edgy industrial design with natural tones and elements house plants. At Annie Maison we are massive fans of office plants and faux banana palms to inspire creativity.
Throw in a cozy thinking chair and some soft furnishing when you need somewhere to just kick back with a brew and think about the direction you are about to take.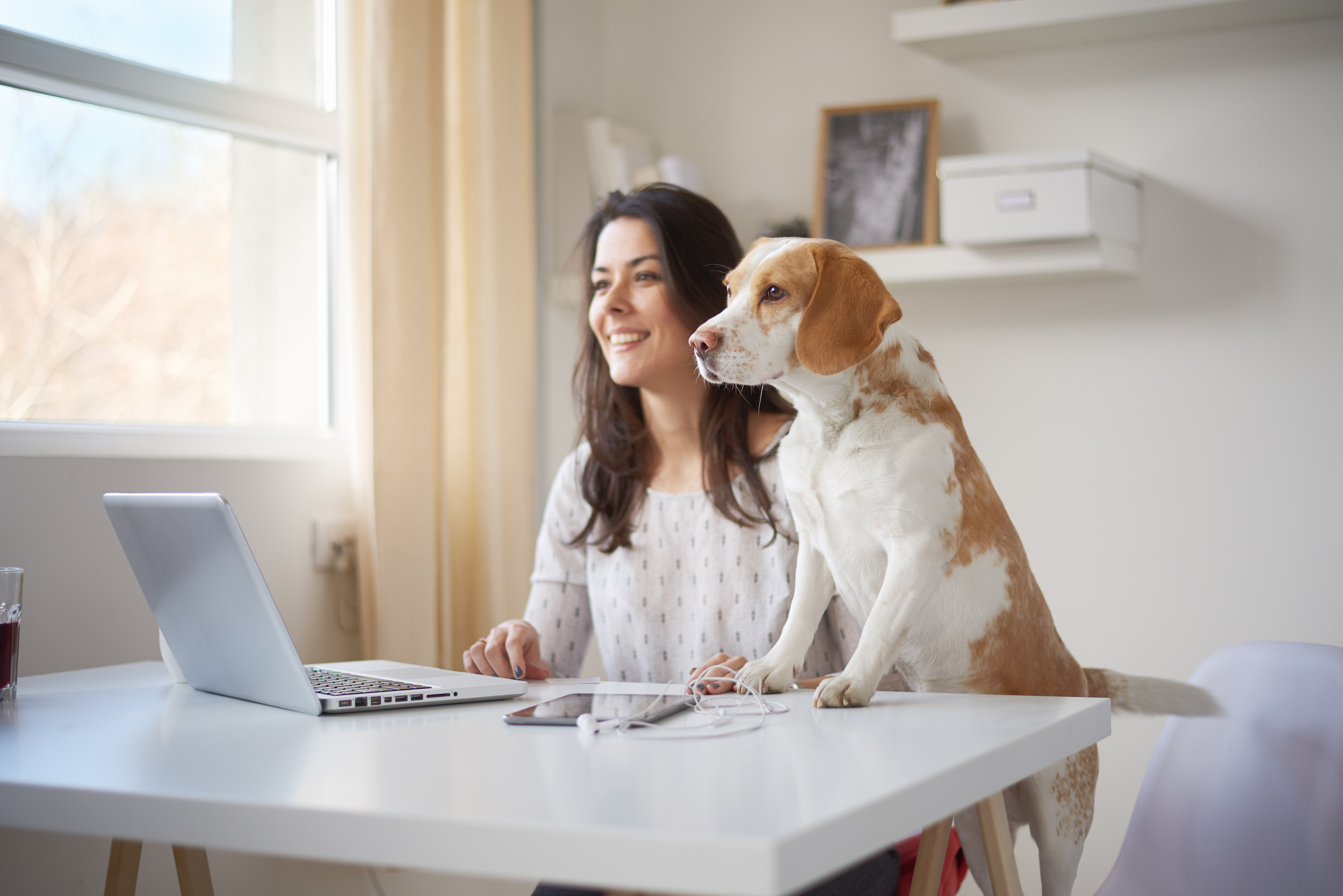 A dog always knows the way.
Ok, we were supposed to be giving you our style guide to the perfect home office but we got side tracked with this super cute pooch but that's ok because doggies bring an element of fun and a much needed moment of escape during your work day. We say YES to the office pooch! lol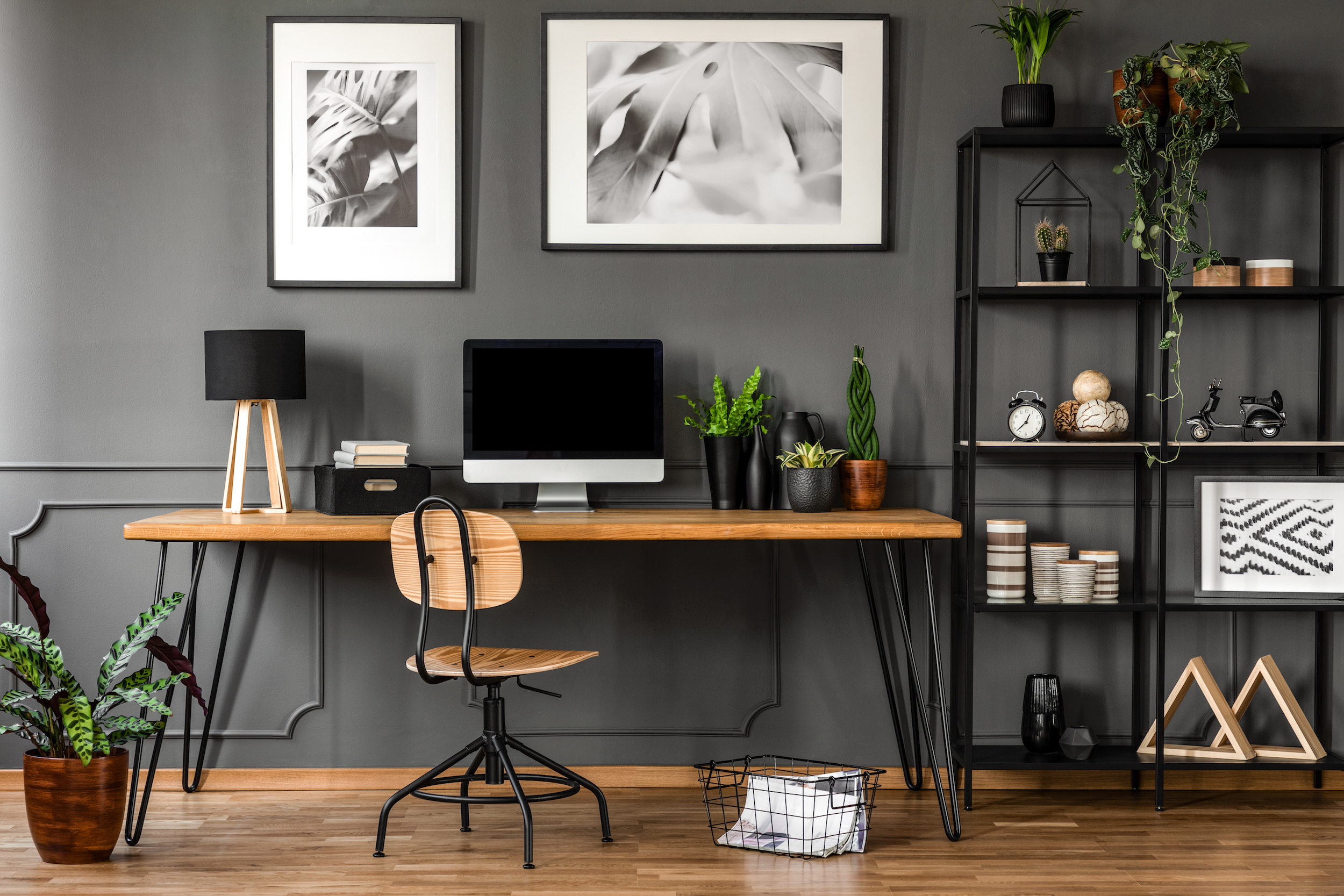 Inspiring and Uber Cool Industrial Design
Create your very own tech start up style office space with industrial design elements including hair pin legs supporting natural solid wood tops, steel framed shelving, dark walls and inspiring wall art. At Annie Maison we're huge fans of the industrial office space and we are always adding new elements to our own HQ office space to inspire creativity. Again thrown in a little greenery for added calming influences. The level head is essential for making decisions. We constantly find ourselves checking out the backgrounds and home of other during a zoom call so be bold and make yours the envy of everyone.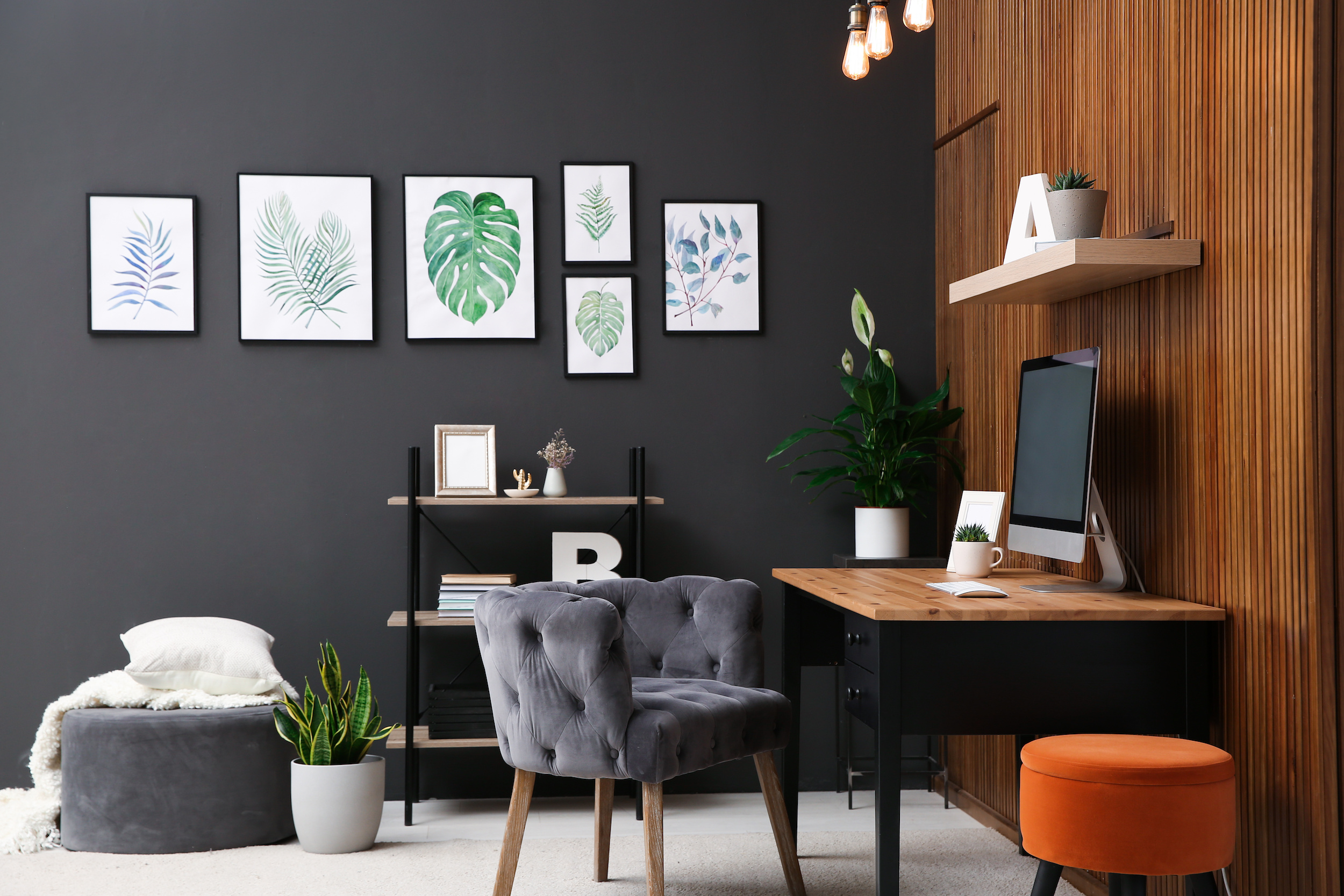 The Executive
Dark walls mixed with strong wood panelled feature wall, clean open desk and floating shelves creates a sense of practicality yet providing style, character and charm with soft industrial metal drawers and polished work spaces. Add display shelving to your home office for your most motivating pieces. Include photos of family, friends and inspirational people you admire. Throw in a house plant or 2 and some super comfy office furniture and you're on the road to "winning at life" Add some motivating wall art for that extra push when you need it most. By surrounding yourself with positivity you'll naturally find more positives each day and creativity will just flow.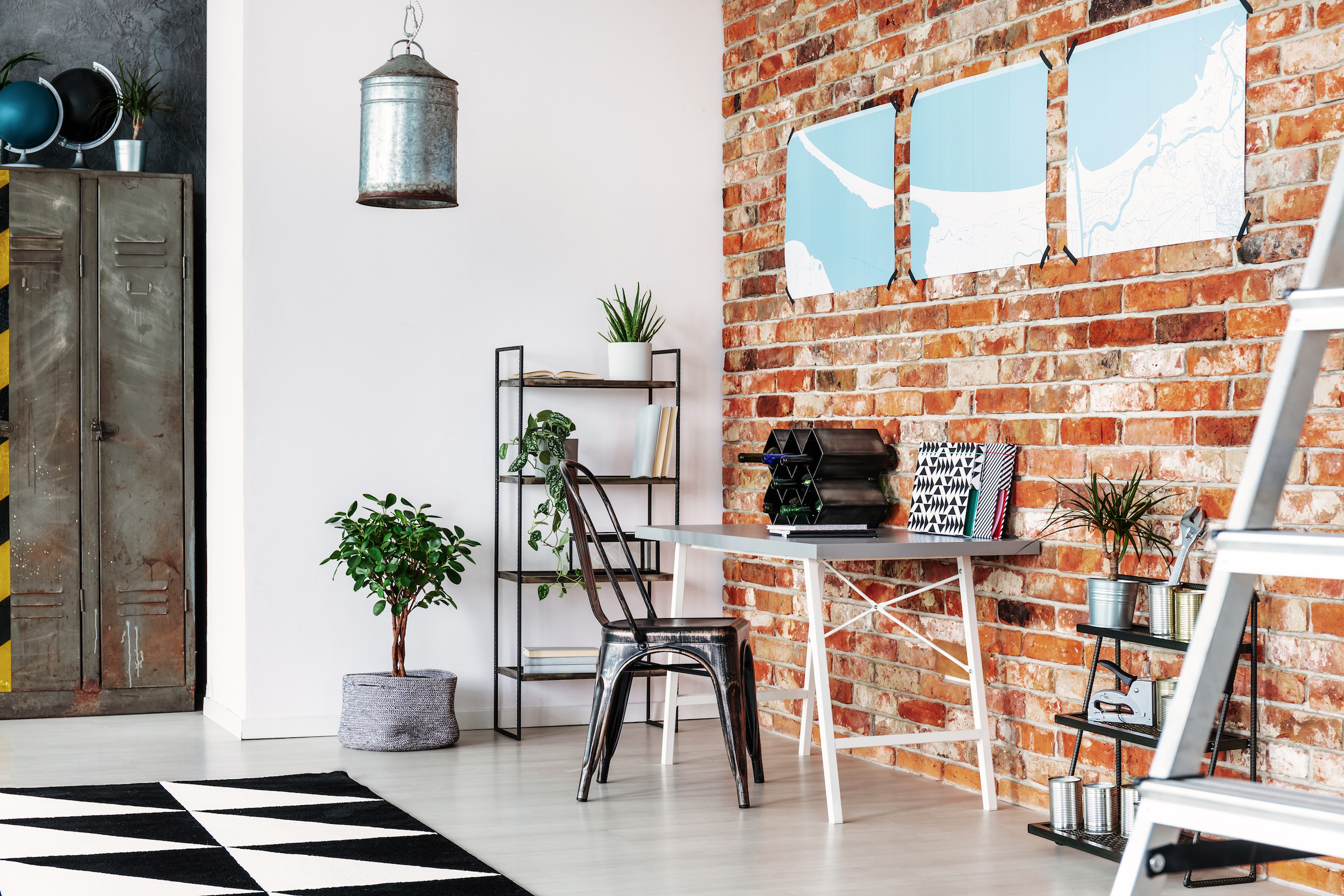 Urban Loft Design
Creativity is born amongst cosmopolitan urban living. Young professionals creating some of the UK brightest start ups from unique shared office space. This inspiring design is used widely within urban shared office space such as We Work and Spaces. Exposed brick wall within historic building is not availble to everyone but fear not it can easily be replicated to create your very own mini "We Work".
Combining faux brick wall covering with metal ladder shelving, old reclaimed school lockers and replica old factory pendant lights with a splash of colour using draping ivy and large house plants will without doubt provide you the ultimate work space to "get sh#t done"