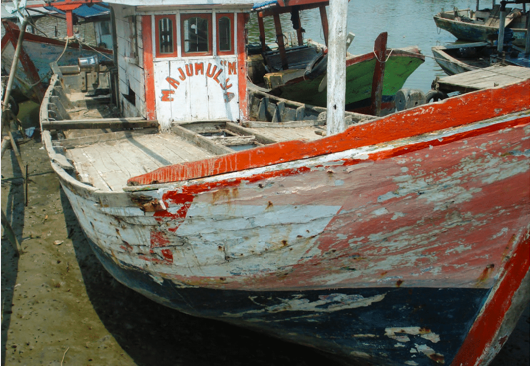 Introducing The Mary Rose collection, featuring selected pieces eroded by waters, and hand-crafted from old fishing boats that sailed the Strait of Malacca.
Each piece of furniture can be traced back to its original boat. This range is 100% made from dismantled boat wrecks, giving a new life to the materials that have withstood years of rough seas. These brightly coloured boats have been used for fishing in the Strait of Malacca in Indonesia, and no boat is the same. This is why each piece of furniture is unique and different. Boats that have reached the end of their lifespan are dismantled into large planks. The bolts, nails and screws are removed, often leaving holes in the planks.
Having survived years of erosion by the sea and the elements, the wood itself is extremely strong. To remove all the moisture, the planks are kiln-dried for 15 days. 90% of the wood from a single boat is used for our furniture, preserving the paint flecks, cracks and holes, features that will make each piece of furniture absolutely unique.
Reclaimed boat wood is mixed with strong steel and hand-crafted into unique designs. Feature pieces can helpcreate a look without having to commit to the whole package. A home office with a practical and eye-catching desk can make it into your favourite room.
Here at Annie Maison we offer a range of furniture and unique items to suit your home, with that the passion to source items of high quality and individuality.
Browse our collection of items ranging from storage, displays units, chairs, desks and more.